Let's Bounce: What is a good bounce rate and how to set your target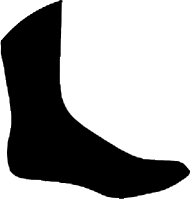 While reviewing a client's Google Analytics they will invariably ask us, "What is a good bounce rate?"
Even though Google provides a solid definition, this question unfortunately doesn't have a black and white answer.
In this article, we will explore the definition of a bounce rate, what is potentially a good or bad bounce rate, and how to determine your target bounce rate.
Google's definition of bounce rate is the % of sessions where only one single action is carried out by the visitor. 
This is most simply defined as when a user opens a page and then leaves without triggering any other action (i.e. clicking on anything else on the page).
By theory, this would mean that these single-page sessions would have a 0 page-view length because Google would not be able to calculate the length of their stay since there are no subsequent hits after the first one.
Not quite.
A bounce might be triggered by any number of events:
Returning to search results
Closing the browser
Changing the URL in the address bar
Following an outbound link
Staying inactive and timing out the session
Reading the entirety of a page but not triggering any events, and then leaving
This is why you can have a page with a 100% bounce rate and yet a long page visit duration length.
Ergo, it's not that simple.
What is a Good Bounce Rate?
There is no one really well-established "good bounce rate."  Generally, a lower bounce rate is better.  But then sometimes a higher bounce rate can be preferable. It depends on a number of variables.
But before we get into these factors, let's look at the statistics.
According to a recent study by Go Rocket Fuel, most websites see their bounce rates fall somewhere between 25% to 70%. 
The average bounce rate is 50%, so if your total website bounce rate is in that range, then you can feel pretty happy.
An exceptional bounce rate is between 25% to 30%.  Anything below that would mean that something is broken, or that the content on the site is not dynamic enough which may not be beneficial.
A bounce rate above 70%, says the report, might be a signal that it's time to reassess and re-tool.
Average Target Bounce Rate
How Should I Set my Target Bounce Rate?
It's important to set your own benchmarks relative to the kinds of interactions you want from your visitors.
For example, if you are an events blog and your events pages have all of the pertinent information that the visitor needs (date, time, location, etc), then once they visit your page they will likely leave.  A higher bounce rate will result.  In fact, you could argue that if the bounce rate were low, it would mean that the content of that page was not optimized because they had to find the information somewhere else on your site.
However, if you are a multi-category e-commerce shop, you will probably prefer that your visitors shop around and keep clicking on different products or shopping items.  Likely if you have related content links on those pages, the visitor will continue to click. In this case, a lower bounce rate is preferable.
Here are the Top 5 Ways to set your Bounce Rate.
The type of website and its content will be the biggest factor as to the kind of bounce rate that you should expect – and want.
Blogs should expect relatively high bounce rates.  A well written post will satisfy users with the right content, causing them to leave after reading it.
On rare occasion, some visitors will want to comment or share.  For the most part, they will want to quietly absorb the information and then move on.
Even though some blogs and sites do a great job with internal linking and advertisements to direct users to other areas of the website, the average blog has a relatively high bounce rate.
The type of device matters.
Mobile users are more likely to bounce across other sites, so it should reasonably follow that a website with a lot of mobile traffic will see a higher bounce rate.   Generally expect mobile bounce rates to be 15% – 20% higher.
On the other hand, people viewing sites on desktops generally have multiple browsers open and tend to gravitate towards content rich sites.  In other words, people on a desktop or laptop are generally there for the long haul.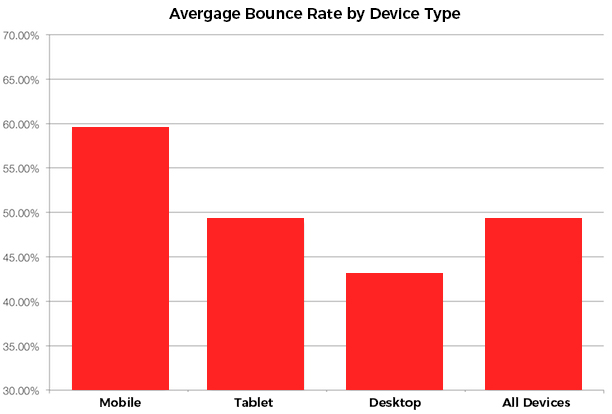 High-content pages should generally have a very high bounce rate. 
The Contact page is a perfect example.  Once users see the phone number/email/address they need, their next step is to contact you through whatever means provided.
Equally bounce-worthy are the FAQ page, e-Commerce sales receipt, check out pages, confirmation pages, and form submission pages.  Since all of the needed information is there and/or provided, the visitor doesn't really need to click on anything else.
According to Custom Media Labs, the bounce rate will vary according to the industry of the website.
Food & Drink

65%

65%

Science

62%

62%

People & Society

59%

59%

Pets & Animals

58%

58%

News

58%

58%

Arts & Entertainment

56%

56%

Books & Literature

56%

56%

Beauty & Fitness

55%

55%

Home & Garden

55%

55%

Law & Government

55%

55%

Computers & Electronics

54%

54%

Hobbies & Leisure

54%

54%

Automotive

52%

52%

Finance

51%

51%

Sports

51%

51%

Travel

50%

50%

Jobs & Education

49%

49%

Games

46%

46%

Shopping

45%

45%

Real Estate

44%

44%
Knowing the differences in bounce rate between the various channels of your pages can help focus your improvement efforts.
In Google Analytics, channel describes the origin of traffic to your site. Google considers a few channels:
Direct: visits where user navigated directly to URL of page
Organic Search: visits from organic (unpaid) search results
Paid Search: visits from PPC campaigns in search results
Display: traffic from displayed advertising (e.g. banner ads)
Referral: visits from users clicking on links from another site
Social: visits from social networks (e.g. Facebook, Twitter)
Email: visits from users clicking on links in emails
Display has the highest bounce rate because people see ads as "clutter" and "least trustworthy."
Social has the 2nd highest bounce rate because typically, people want to quickly see your content and then return to their browsing.  This is why mobile browsing usually increases bounce rates, since most people view their social media on their phones.
Referral and email have the lowest rates.  This is because they are highly targeted to a more engaged audience who may be interesting in clicking through to the rest of your site.
Bounce rate can be a deceiving KPI, appearing good or bad depending on how you evaluate and segment data.
So, it's not a make-or-break metric. 
According to SEMrush, the bounce rate it the 4th most important ranking factor in SERP's – after:
Direct Website Visits
Time Duration on Site
Pages per Session
Also, according to Google's Search Engine Journal, Google doesn't use the bounce rate in their SEO algorithm.
So, there.  In your face!  Right?
Not exactly.
Bounce rate is an important measure.  It tells us when someone leaves.  The reason why they leave, or whether they should have, will be determined by the rest of the metrics and how you utilize them.
It's important to be aware of the different bounce rate variables that we have outlined, as well as split-test certain elements in a controlled way in order to maximize the visitor experience and, ultimately, your website's ROI.
want a free traffic analysis of your site ?
proudly servicing 48 markets globally.
AUSTRALIA | BRAZIL | CANADA | FRANCE | GERMANY | HONG KONG | ITALY | INDIA | JAPAN | MEXICO | NETHERLANDS | NORTH AFRICA | PORTUGAL | RUSSIA | SOUTH AFRICA | SPAIN | SOUTH EAST ASIA | TURKEY | UNITED KINGDOM | UNITED STATES